Tungsten Copper Dart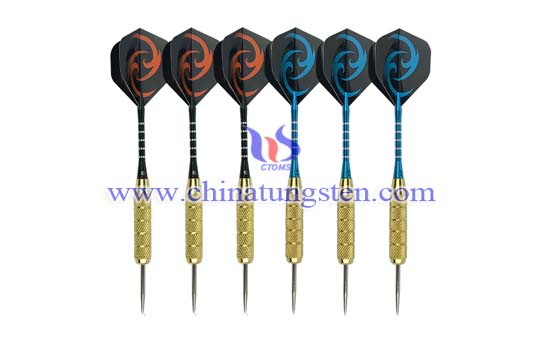 Today's standard material of tungsten barrel is Tungsten-Nickel-Iron. Tungsten is a very dense material, so darts with a considerable weight can be made quite slim. However, before the tungsten revolution darts were mainly made of brass. Not only has the density of tungsten and anti-corrosion, while a brass color, copper tungsten darts has become the best choice for many people.
Tungsten copper dart is a much softer material. To show the color of brass, they generally with about 70%~80% Tungsten content. Some darters, especially old-timers, like the grip of these darts as the metal surface develops microscopic pits after they have been thrown for a while.Tungsten copper dart< has become much less common in recent years, with Nickel/Tungsten darts becoming the primary type of high-density darts.
To make the game of darts successful there is dart equipment involved. It includes dartboards, shafts, dart, barrels, flights and other accessories. Today, there are many companies that manufacture dart equipment with international standards. The dartboard used internationally is also called a "clock face" dartboard, and it is made of rope fiber that is compressed under tremendous pressure. The surface is made smooth and screen-printed with different types of color combinations. Lastly, with the help of wires and stapled rings, it is given radial movement. Darts or barrels are cylindrical, pointed equipments that are thrown by hand onto the dartboard.
There are different types of material that darts are made of. They are brass, tungsten/silver, copper, etc. Usually, three darts make a set. Flights are the tails or wings of the darts that help to stabilize the movement. These flights are made of different material like soft and hard flights, and nylon and dimplex or ribtex flights. Shafts support the body of the darts and can be made of plastic, composite, spinning and solid aluminum shafts. The dartboard and darts are hard-core dart equipment, whereas, the shafts and the flights are dart accessories.