Tungsten Copper Dart Barrel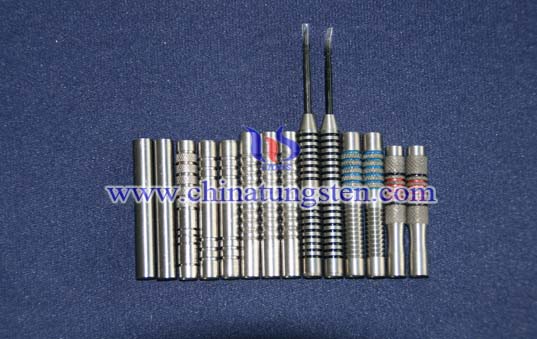 Tungsten copper dart is made of the material of tungsten copper alloy. Tungsten copper alloy has the features of tungsten and copper ,which is a very dense material and it has a good machinability, so it is a good choice to make as a slim tungsten cooper dart to give user a safe and easy grip. The tungsten copper dart barrel is the main part of a tungsten copper dart. When we are speaking of buying a (new) dart, we mean getting a new dart barrel. Nowadays barrels are available in almost every possible shape, with a wide selection of knurl or rings on the surface for a comfortable and safe grip.
Because of technical difficulties with manufacturing 100% tungsten dart barrels are not available. All tungsten darts you can buy are in fact made of tungsten alloys, actually now a dart made of tungsten copper alloy is becoming more and more popular among all kinds of the customers and many manufacturers.
We are specializing in supplying all kinds of tungsten copper dart barrels. We can offer various range of tungsten copper barrels, including W-Ni-Fe, W-Ni-Cu, W-Ni-Cu-Fe, etc. Also we own mature technique of surface grinding and centre-less processing. We can also manufacture darts according to customers' specific designs.